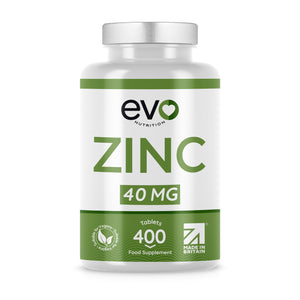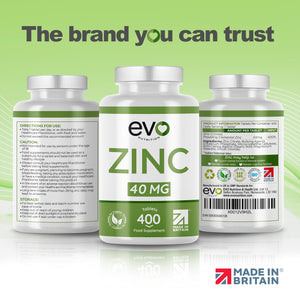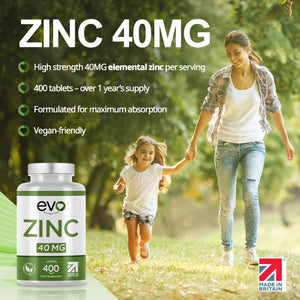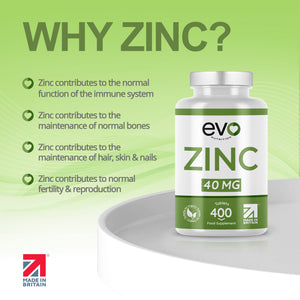 Product image 1
Product image 2
Product image 3
Product image 4
Product image 5
Product image 6
The Facts
Despite being vital for maintaining our health and described as an 'essential trace element', Zinc is not naturally produced by our bodies. This means in order to stay healthy and enjoy the benefits of this powerful element, we have to find other sources of Zinc. Fortunately, EVO Nutrition's 40mg Zinc tablets make this simple.
Formulated in the UK by expert healthcare professionals, our Zinc 40mg supplements boost the levels of Zinc in your body, which contributes to the normal function of your immune system and metabolism, as well as the regular maintenance of your vision, bones, teeth and nails. Perfect for vegans and vegetarians, this product contains no ingredients sourced from animals and is suitable for those with a broad range of dietary beliefs and requirements.

Add our potent Zinc 40mg supplement to your daily healthcare routine today and enjoy the enormous health benefits it can bring.

Description
Zinc is considered an essential nutrient and plays a vital role in a number of key bodily functions and processes. However, as your body cannot produce or store it, getting a constant supply through your diet is crucial.
Perhaps Zinc's most important role in our body is keeping our immune system as healthy as possible. Zinc is essential for immune cell function and cell signalling, meaning that a deficiency can lead to a weakened immune response which can leave you more susceptible to infections, viruses and other causes of illness. However, this powerful element is also key in helping your body regulate your metabolism and the levels of testosterone in the blood, as well as maintaining the condition of your vision, bones, teeth and nails.
Our easy-to-swallow, one-a-day Zinc supplements can provide a wide range of nutritional and health benefits, and are formulated to improve your body's ability to complete a selection of vital functions. Benefits include:
contributing to the maintenance of normal immune system function
maintenance of normal vision

maintenance of normal testosterone levels in the blood

maintenance of normal bones, hair and nails

maintenance of normal metabolism of fatty acids

We only use premium quality active ingredients. At 40mg per tablet, these Zinc supplements are designed to give the optimum benefits in the most efficient form of one tablet per day. They even come in a 400 tablet pack – more than a full year's supply.
Ingredients
Zinc Citrate, Bulking Agents (Dicalcium Phosphate, Microcrystalline Cellulose), Anti-Caking Agents (Stearic Acid, Magnesium Stearate, Silicon Dioxide).