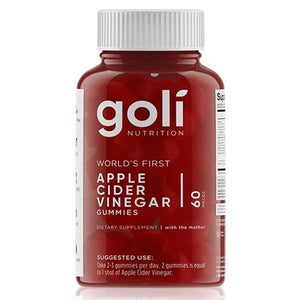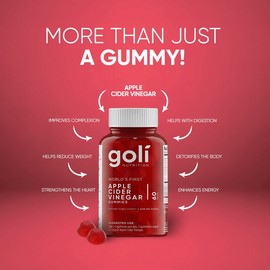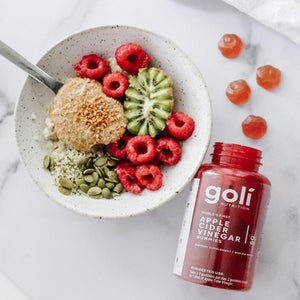 Product image 1
Product image 2
Product image 3
Product image 4
Product image 5
Product image 6
Evo Nutrition is proud to be the UK and Europe's authorised distributor of Goli Gummies
Apple Cider Vinegar has a whole range of fantastic benefits and now you can enjoy these without the downsides of drinking it - introducing Goli Gummies!
Apple Cider Vinegar is known to help improve digestion issues, experience, give you more energy, help clear your skin problems, detox yourself and help you lose weight. 
What's more by using Goli Gummies you can now enjoy all of these benefits without the awful taste. As the Goli team say: 'Taste the Apple, NOT the Vinegar'.
Incorporating this supplement into your daily routine is simple and very convenient.
Buy Multiple Bottles & SAVE - RRP £18.95 per bottle
| | | | |
| --- | --- | --- | --- |
| Quantity | Price per bottle | Total Price | Save on RRP |
| 1 | £13.00 | £13.00 | £5.95 |
| 2 | £12.00 | £24.00 | £13.90 |
| 3 | £11.00 | £33.00 | £23.85 |
| 4 | £10.75 | £43.00 | £32.80 |
| 5+ | £9.88 | | |
* Discount automatically applied at checkout
** Cannot be used in conjunction with other discount codes
Goli Gummies Description
If they're good enough for JLo, then they're good enough for us! Goli's 'Worlds First' Apple Cider Vinegar Gummies are currently the No 1 best-selling supplement on Amazon.com (USA). As seen on the Ellen Degeneres show and endorsed by the 'fittest woman on earth' Tia-Clair Toomey.
Used by celebrities in the USA, Goli Gummies are the number 1 best-selling supplement according to the statistics for Amazon. 
Made with only high quality and natural ingredients including "the mother" (click this link to find out more) - healthy bacteria that will boost your probiotic intake and boost your gut health.
Goli Gummies
 - 

The Facts VEGAN, ORGANIC, NON-GMO, GLUTEN FREE & GELATINE FREE:
Each and every bottle of Goli Gummies contains 60 delicious vegan friendly, organic, non-GMO, gluten free & gelatine free Apple Cider Vinegar gummies.

Apple Cider Vinegar just got a lot more accessible for the masses. Goli Gummies have enabled a fantastic product to be compacted into a gel format which is easy to swallow, store and incorporate into your daily routine.
REAL APPLES, VITAMIN PACKED, GREAT TASTE:
Made with real apples, beetroot and pomegranate, these delicious supplements taste just as nice as they are good for you

You'll be feeling great with our vegan friendly formula. It's packed full of Vitamin B12 and B9 which will help you get a boost in mood, metabolism, and much more!
MORE ENERGY, BETTER DIGESTION, DETOX & CLEARER SKIN:
As if it were not enough that you could experience more energy, gain weight loss and feel great from a body detox with Goli gummies. They also relieve digestion issues!

Enjoy all of the benefits of Apple Cider Vinegar without the downsides of drinking it.

Overall an excellent and convenient way to incorporate the benefits of Apple Cider Vinegar into your daily routine.
GOLI ACV GUMMIES ARE WITH "THE MOTHER":
Goli ACV Gummies are unfiltered and raw, what's more they are made with "the Mother", a beneficial probiotic. 

You can avoid having to take Apple Cider Vinegar as your supplement by substituting one shot of

Apple Cider Vinegar

for 2 gummies.
Ingredients
Apple Cider Vinegar, Organic Pomegranate, Organic Cane Sugar, Pectin, Sodium Citrate, Vitamin B9, Organic Beet Root, Vitamin B12, Organic Tapioca Syrup, Water,  Citric Acid, Malic Acid, Natural Flavour: Organic Carrot, Organic Apple, Organic Blackcurrant (for colour and flavour).