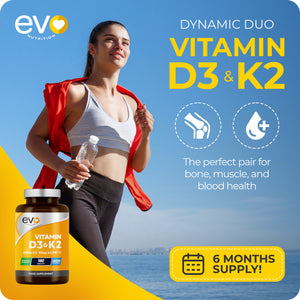 Product image 1
Product image 2
Product image 3
Product image 4
Product image 5
Product image 6
Product image 7
Vitamin D3 & K2 (MK-7) Tablets
The Facts
DYNAMIC DUO: Just 1 vegetarian tablet per day of our Vitamin D3 & K2 formulation provides 4,000IU of Vitamin D3 and 100mcg of Vitamin K2 to help in the maintenance of healthy immune system, bones, muscles, and teeth (claims backed by EFSA).
BUILDS STRONG BONES: This powerful supplement can help to improve bone health by providing a path for Calcium to reach the bones and away from areas it shouldn't be, such as arteries.
BOOSTS IMMUNE SYSTEM: Vitamin D plays an important role in the normal functioning of your immune system. Take just one tablet a day for a full 4,000 IU (100µg), so you can rest easy knowing that you're getting the Vitamin D your body needs.
HIGH POTENCY & PREMIUM QUALITY INGREDIENTS: Our premium blend ensures that these vitamins are set at optimum dosages to safely deliver the full benefits of each ingredient.
PRODUCED IN THE UK: Rest assured - our Vitamin D3 & K2 tablets are formulated by healthcare professionals and produced in the UK to high quality control standards following GMP guidelines.
VEGETARIAN SUITABLE: Our Vitamin D3 & K2 tablets are 100% vegetarian.
Description
Vitamin D3 & K2, Menaquinone MK7
Our Vitamin D3 & K2 contains MK-7 Menaquinone - which is highly bio-available and regarded as the gold standard of Vitamin K2.
Vitamin D3 & K2 are incredibly important nutrients and play a crucial role in supporting our immune system.
However, the benefits of this supplement don't stop there, and it can help with:
building bone health
lowering the risk of osteoporosis
improving dental health
maintaining normal muscle function
absorption of calcium & phosphorus
maintaining normal blood calcium levels
These Vitamin D3 & K2 tablets are made in the UK to the highest possible standards, with premium ingredients, ensuring that you are getting all the benefits of these vital vitamins in the most efficient way of one easy-to-swallow tablet a day.

Ingredients
Bulking Agents (Microcrystalline Cellulose, Dicalcium Phosphate), Vitamin D3 (Cholecalciferol), Vitamin K2 (MK7), Anti-Caking Agents (Magnesium Stearate, Silicon Dioxide).