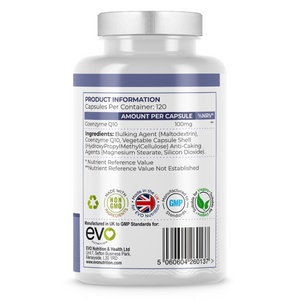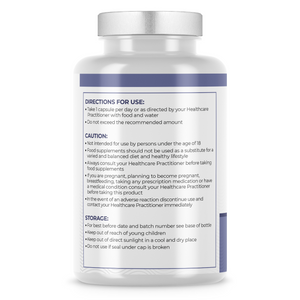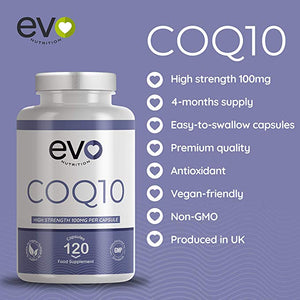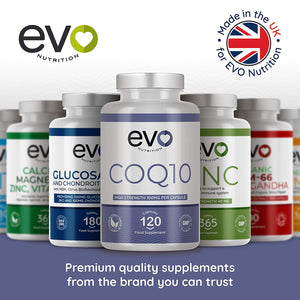 Product image 1
Product image 2
Product image 3
Product image 4
Product image 5
Product image 6
Coenzyme Q10 Ubiquinone 100mg
Regular price
£12.95
Sale price
£15.95
The Facts
ENSURE YOUR INTAKE OF CO-ENZYME Q10: CoQ10 is an antioxidant compound that occurs naturally in your body. It plays a key role in protecting your cells from damage and oxidative stress, helps the metabolism and provides cells with energy. While the amount of CoQ10 can reduce with age and various illnesses, these capsules can ensure your body has the correct levels.
HIGH POTENCY & PREMIUM QUALITY INGREDIENTS: Our CoQ10 Ubiquinone capsules are designed to deliver a premium dosage of 100g in one easy-to-swallow capsule. With many people not producing enough of the compound naturally, it is a healthy way to guard against the effects of CoQ10 deficiency.
PRODUCED IN THE UK: Our CoQ10 capsules are formulated by healthcare professionals and produced in the UK to high quality control standards following GMP guidelines. These capsules are naturally fermented and easily absorbed.
100% VEGAN: Our CoQ10 capsules are suitable for vegans.
UP TO 4 MONTHS' SUPPLY: Our capsules come in a 120 pack – meaning you can take the recommended one a day for four full months' worth of CoQ10.
Description
Often referred to as CoQ10, Coenzyme Q10 is a naturally occurring antioxidant that helps protect your cells from damage and provides energy for the high functioning parts of your body, such as the heart, lungs, liver, kidneys and muscles.
It occurs naturally in our bodies; however, age and various illnesses can mean that many people do not get enough CoQ10, which makes supplements all the more important to make up for the shortfall.

EVO Nutrition's CoQ10 Ubiquinone capsules are made in the UK to the highest possible standards and with premium ingredients, ensuring that you are getting all of the benefits of CoQ10 in the most efficient way of one easy-to-swallow capsule a day.

Ingredients
Bulking Agent (Maltodextrin), Coenzyme Q10, Vegetable Capsule Shell (HydroxyPropylMethylCellulose) Anti-Caking Agents (Magnesium Stearate, Silicon Dioxide).