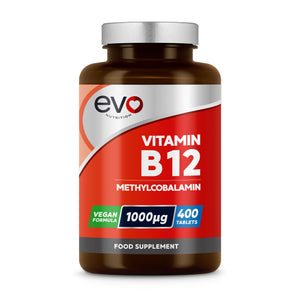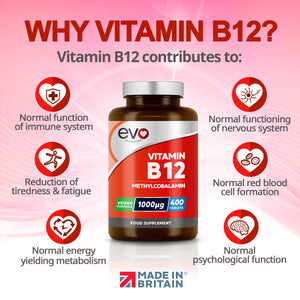 Product image 1
Product image 2
Product image 3
Product image 4
Product image 5
Product image 6
Product image 7
Vitamin B12 Tablets 1000mcg
Regular price
£8.95
Sale price
£9.95
The Facts
FOR HEALTHY BLOOD & PSYCHOLOGICAL FUNCTION: Vitamin B-12 (Methylcobalamin) plays a vital role in helping your body maintain normal red blood cell formation. It can also contributes to normal psychological function, reduction of tiredness and fatigue, and normal functioning of the immune and nervous systems - all claims substantiated by the GB Nutrition & Health Claims Register.
HIGH POTENCY INGREDIENTS: Our 1000mcg Vitamin B-12 tablets are derived from Methylcobalamin, the purest and most bio-available form of B12. At 1000mcg per tablet, they are designed to give the optimum benefits in the most efficient form of one easy-to-swallow tablet per day.
PRODUCED IN THE UK: Our supplements are formulated by healthcare professionals and produced in the UK following strict quality control guidelines.
100% VEGAN: Our tablets are guaranteed as suitable for vegans.
UP TO 13 MONTHS SUPPLY: Our tablets come in a 400 pack – providing the recommended one-a-day for a full 13-months' worth of Vitamin B12.
Description
Vitamin B-12 is a crucial vitamin, which is most noted for being instrumental in maintaining healthy blood by helping to produce red blood cell formation. However, its benefits do not stop there, with other effects including
Reduction of tiredness and fatigue


Normal functioning of the immune system

Normal energy-yielding metabolism

Normal functioning of the nervous system

Normal homo-cysteine metabolism

Normal psychological function

Is involved in the process of cell division
 'GB Nutrition & Health Claims Register approved claims'

With many people suffering from Vitamin B-12 deficiency, these supplements are designed to give you your daily allowance in one easy-to-swallow tablet. They are made in the UK to the highest possible standards and our 400-tablet pack means you don't have to order for another 13-months.

Ingredients
Bulking Agents (Dicalcium Phosphate, Microcrystalline Cellulose), Anti-Caking Agents (Silicon Dioxide, Magnesium Stearate), Vitamin B12 (Methylcobalamin).