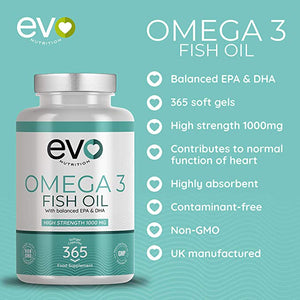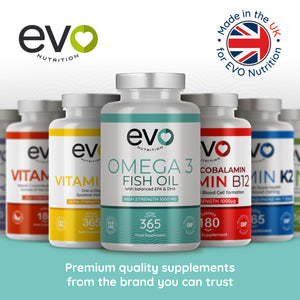 Product image 1
Product image 2
Product image 3
Product image 4
Product image 5
Product image 6
The Facts
ENSURE YOUR DAILY INTAKE OF OMEGA-3: Omega-3 fatty acids are essential nutrients with many benefits. The type of Omega-3 found in fish, called DHA & EPA, appears to have the strongest health benefits. DHA contributes to maintenance of normal brain function and normal vision, whilst DHA & EPA contributes to the normal function of the heart. Our Omega-3 contains more than the recommended minimum daily intake of EPA & DHA, expertly balanced for the most beneficial effects.
HIGH POTENCY & PREMIUM QUALITY INGREDIENTS: Our Omega-3 supplements are designed to deliver a premium dosage of 1000mg in one easy-to-swallow soft gel. With many people not getting enough of these important acids in their diet, it is a healthy way to guard against the effects of Omega-3 deficiency.
PRODUCED IN THE UK: Our supplements are formulated by healthcare professionals and produced in the UK to high quality control standards following GMP guidelines.
UP TO 12 MONTHS SUPPLY: Our soft gels come in a 365 pack – meaning you can take the recommended one a day for a full year's worth of Omega-3.
Description
Omega-3 has long been recognised as a key element of a healthy diet by medical professionals across the world. Its benefits are far-reaching and it has even been credited with increasing life expectancy in countries whose diet is rich in Omega-3.
However many people do not get enough Omega-3 from their diet, which makes supplements all the more important to make up for the shortfall. The benefits of Omega-3 are vast, and it is thought to:
Contribute to maintenance of normal brain function

Contribute to normal vision

Contribute to normal function of the heart

EVO Nutrition's Omega-3 1000mg soft gels provide 300mg of balanced EPA & DHA per capsule. This is more than the minimum daily requirement needed to feel the beneficial effects of this supplement.
Our supplements are made in the UK to the highest possible standards and with premium ingredients, ensuring that you are getting all the benefits of Omega-3 in the most efficient way of one easy-to-swallow soft gel a day.

Ingredients
Omega 3 Fish Oil (Antioxidant: Mixed Tocopherols (Soya)), Capsule Shell: Gelatine (Bovine), Glycerol.